"As a hair color professional ColorMark offers me a unique product. I can now apply my clients color at the salon, and when their gray begins to show after the second week, they can apply ColorMark at home and keep the color I create at the salon looking perfect until the next color appointment."
"Just want to let you know how I can't live without your ColorMark. Love it, love it, love it. And have recommended it to many friends."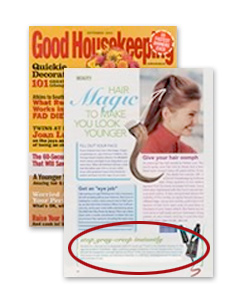 Good Housekeeping
Hair Magic: Stop
Gray-Creep Instantly
with ColorMark
"No time for a dye job but in desperate need of a touch-up? There's a new (better) remedy for this age-old problem: ColorMark... Unlike hair mascara, this tool uses liquid color and comes in eight shades, so it blends in naturally. In a Good Housekeeping Institute test, volunteers loved the quick results and ease of use."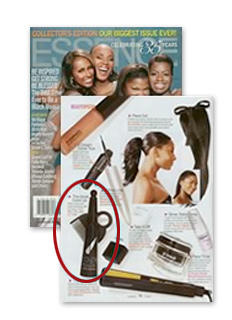 Essence
Pure Genius: ColorMark
The Great Cover Up
"Erases stray grays with one sweep. ColorMark."
"Three cheers! What a brainstorm you had, and how fabulous that the idea translated so perfectly into such a neat and effective product. I Do, I Do, I Do LOVE ColorMark! I think I called just about everyone I know after I tried it for the first time and informed them that the wheel had just been re-invented and they had to try this! ColorMark is an amazing innovation, a great time and money saver, and this girl's best friend."
"A friend gave me your product which she purchased at a salon. I think it is an incredible solution to cover up gray roots. I use it regularly with confidence because it looks so natural. Thank you for developing it!"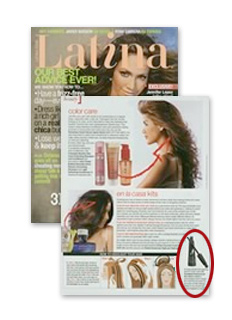 Latina
ColorMark: Color Care
"Is your gray growing back in? Cover gray roots with ColorMark."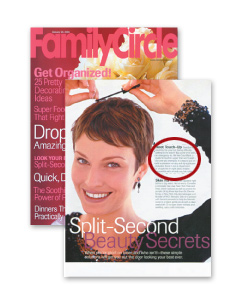 Family Circle
ColorMark Root Touch-up
"Overdue for a covering of gray but having difficulty getting to the salon? Buy some time with an emergency kit. We like ColorMark, a quick-fix toucher-upper that won't wash out until you shampoo. It's easy to put on with a precision no-drip soft-tip applicator."
"What a fantastic product! It actually does what it claims to do. Not too many products do that today. It covers the grey beautifully — for those times when you just can't make it to the hairdresser and you need a quick, "unnoticeable"cover-up. It goes on easily and looks great! Then it washes out without a trace. Safe, easy to use & looks great. What could be better? And now that it is available in Canada — it can't get any better than that!
 
I feel it is definitely one of the best products I can use to "feel good about myself." It is a "god send" for a bad hair day.
"My husband has started using my ColorMark on his grey beard... it works wonderfully."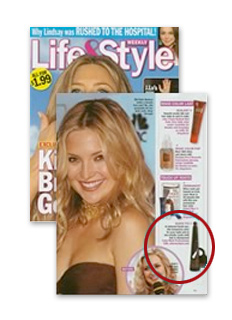 Life & Style
ColorMark - the Quick Fix
"In between touch-ups, this temporary color for gray roots sets in one minute."




Back to top of page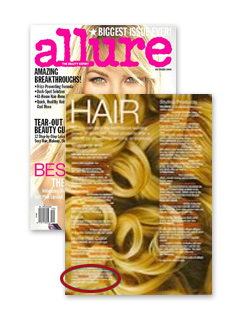 Allure
ColorMark: A Champion!
Allure tested thousands of beauty products to find the "182 undisputed champions."
 
"ColorMark is a tinted liquid that you paint over grays. It doesn't get crunchy and rinses out when you shampoo."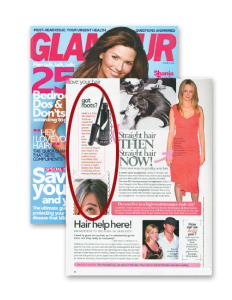 Glamour
Got Roots?
Get ColorMark!
"Here's a five-second fix: Touch-up wands that hide new growth between dye jobs."
"Just wanted to let you know your product is excellent, and I am truly satisfied. Prior to discovering your product in a magazine, I was using another product. From now on I will use ColorMark because of better and easier coverage."
"My hairdresser just started carrying your product, which has made me quite happy. I've been waiting for this type of coloring for years. Thank you again for developing this necessary in between coloring."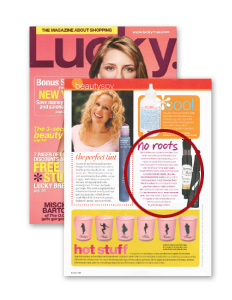 Lucky
No Roots with ColorMark
"We love the way just-done haircolor looks when we come out of the salon, but hate the telltale roots that spring up in a matter of weeks. ColorMark is a liquid tint that is available in twelve shades... and covers gray like a dream."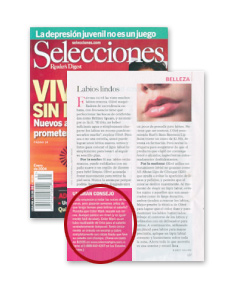 Selecciones

Spanish Reader's Digest
ColorMark: Great Advice
"Are your gray roots starting to show, but weeks pass before you have time to color your hair? Let ColorMark rescue your gray roots... It completely covers your roots until you shampoo your hair."
"Your product is absolutely wonderful. I recommend ColorMark to all of my friends."
"I absolutely love your product and can not survive without it!! Before discovering ColorMark, I used mascara to cover my roots and it was just awful. It was gooey and made my hair feel dirty. Your product feels and looks so good."